The Global course features both a focus on languages and studying abroad within a humanities-based curriculum. All participants experience 3, 6 or 12 month study abroad programs. In Global Project Studies, students find global problems and broaden their horizons by engaging in research to find solutions to these problems. Your global future starts here !
Students aiming for high level universities can take special classes aimed at strengthening their abilities combined with thorough learning guidance. Intensive classes are held during throughout the year. They include English listening practice within the scope of the center test as well as the 5 core subjects. We guide the students toward efficient learning so that our students gain acceptance to their desired school.
With a focus on 4-year universities, we offer guidance to cater to students' study and future pathway needs. From the second year onward, we specialize in the liberal arts. Students study according to their individual goals. We offer study groups and lectures to students aiming to advance to universities so that we can help everyone realize their unique dreams while considering each individual personality.
Streamed classes with small class sizes
For students using English as a tool for communication, the four skills (listening, speaking, writing and reading) are developed in a balanced way. Small classes aid increased output opportunities.
Oral communication classes are all-English classes with native teachers in which students develop their actual communicative English proficiency which ties in with the English proficiency gained from university entrance examination preparatory classes with Japanese teachers. Students can also book one-on-one sessions with a native teacher after school in the K-SALC.
Students work for the Eiken test, which is a pivotal focal point in the lead up to university entrance examinations. Graded Eiken test materials are placed at the front of each classroom, creating an environment which allows students to study at their own pace. In addition, each student is assigned a coach in preparation for the Eiken interview test and undergoes repeated interview test practice.
The importance of Chinese is increasing year by year. Students learn vocabulary, pronunciation and grammar whilst familiarizing themselves with expressions useful in every life. All participants take the HSK Chinese test and there have even been some who passed level 6, the highest level. Chinese is required from the 2nd year of junior high school, becoming an option in the 2nd year of high school.
In recent years, Korea has gained attention in Japan. Students can actively learn both how to read and write the Hangul alphabet as well as useful everyday expressions. With 2 class periods per week, students prepare for proficiency tests allowing even beginners to relax while studying for tests.
From 2017, our school has begun to offer French as an optional subject. As an officially recognized international language, French is growing in importance. Students can also learn about French culture, history and fashion.
High School Study Abroad / Language Study Trip
The Kanda original select study abroad program and language study trip (From the 1st year of high school)
Non-Global students can choose to do study abroad and language training programs. Students gain a broader world view, developing practical language ability and can experience a different culture. They can practice goal-setting as they plan to achieve their goals. Students have months of practice in the target language with native speakers before departure. Once abroad, they can enjoy a home-stay experience. In addition to studying English through a variety of activities and upon return, their study will allow them to still complete high school in 3 years. These programs help Kanda students gain admission to overseas universities and study abroad seminars.
Auckland Girls' Grammar School in New Zealand
We have a sister school partnership with the Auckland Girls' Grammar School (AGGS) in New Zealand. AGGS is a historic school, founded in 1885, and we send girls there to study abroad every year. It's a very popular study abroad location because it features not only study but also a strong focus on sports and volunteer activities. Our relationship deepens via exchange activities such as Skyping, video letters, and joint projects.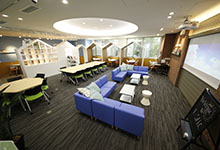 Our newest learning space is called the K-SALC which stands for KANDA Self-Access Learning Centers. Here students can choose from a variety of language learning resources including native teachers on stand-by to assist in one-on-one support. It was created in censultation with the Kanda University of Foreign language.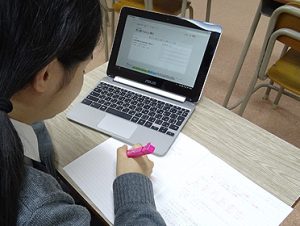 From 2017, all new students are required to have a Chromebook. This is a notebook PC which is utilized for each student's studies and school life. Due to each student having one, management of in-class homework distribution and submission is greatly streamlined. This is a new tool which has freed students from having to carry a USB memory stick for their presentation and projects.