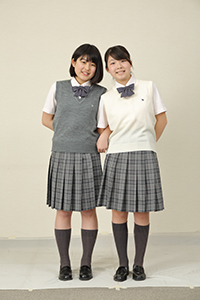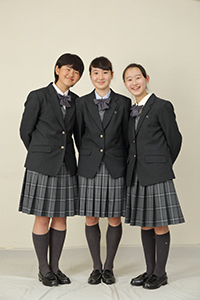 Global classes have a homeroom enviroment shared by a native English teacher working with a Japanese counterpart. Due to the homeroom taking place in English, the psychological hurdle of using English is lowered and the chances of using English in daily life are increased. Native teachers also take part in club instruction and events. A large amount of time is set aside for foreign languages. Apart from the 6 periods a week allocated to English classes, 1st and 2nd year junior high school students do 2 periods of online conversational English per week. 3rd year junior high school students learn 1 period of online conversational English per week in addition to being able to choose from 1 period per week of French, Chinese or Korean.
2) New Zealand study abroad
All 3rd year junior high school students participate in a compulsory short-term study abroad trip to New Zealand. This provides them with an opportunity to use the English skills that they have fostered over 3 years, thus allowing for a further boost to their motivation. Student can may also expect noticeable growth in their mentality and demeanor due to spending a period of time living away from their families. This program is made possible due to the absence of high school entrance examinations in a combined school.
3) Small streamed classes
The learning areas of Japanese, math and English feature the highest discrepancy in grades among the 5 core learning areas thus are streamed into separate classes in the 1st year. Also, regarding junior high school English, students' previous learning environments are taken into consideration, resulting in thorough instruction taking place within each of the 3 subjects. In the 2nd and 3rd years, students' achievements are taken into consideration when deciding who to promote when the classes are rearranged.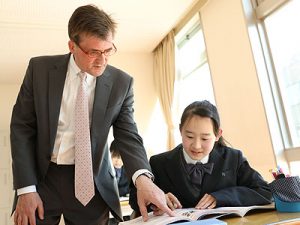 There are 6 full‐time native English teachers which increases the opportunity for students to experience English daily. Phonics are employed to help students learn correct English pronunciation. To increase listening opportunities, international news and foreign language music are played at lunchtimes.
Small-sized classes, streamed and all in English
In the junior high school, class sizes are limited to approximately 10 students and there are 6 periods of English per week, 3 are taught all in English by a native teacher and 3 taught by a Japanese teacher. Classes are split in 3 separate streamed levels, and thanks to small class sizes, the opportunity for student output is increased. From the 1st year of junior high school, students take online conversational English classes which allow each student to signficantly improve their speaking and listening skills.
Presentation opportunities
All junior high school students take on the challenge of delivering several presentations in English and via our Presentation Showcase which is held annually in term 3. It is connected to the improvement of students' speaking ability. Also, term tests feature a wealth of short essay style questions that enrich the growth of students' writing abilities. This leads to results that indicate high scores on written tasks when compared to GTEC averages.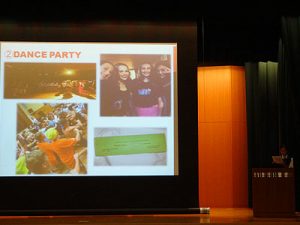 We actively support students in the Eiken testing, which is important in the lead up to university entrance examinations. Graded Eiken test materials are placed at the front of each classroom, creating an environment which allows students to study at their own pace. In addition, each student is assigned a coach in preparation for the Eiken interview test and due to repeated interview test practices, we can boast a 100% pass rate.
The importance of Chinese is increasing year by year. Students learn vocabulary, pronunciation and grammar whilst familiarizing themselves with expressions useful in everyday life. All participants take the HSK Chinese test and there have even been some who passed level 6, the highest level.
* It's a required subject from the 2nd year of junior high school, becoming an option in the 2nd year of high school.
Korean (An optional subject in JHS3)
In recent years, Korea has gained attention in Japan. Students can actively learn both how to read and write the Hangul alphabet, as well as useful everyday expressions. With 2 class periods per week, students prepare for proficiency tests allowing even beginners to relax whilst studying toward passing the tests.
French (An optional subject in JHS3)
From 2017, our school has begun to offer French as an optional subject. As an officially recognized international language, French is growing in importance. Students can also learn about French culture, history and fashion.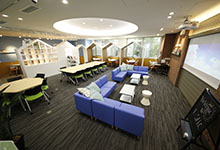 Our newest learning space is called the K-SALC which stands for KANDA Self-Access Learning Center. Here students can choose from a variety of language learning resources including native teachers on stand-by to assist in one-on-one support. It was created in consultation with the Kanda University of Foreign language.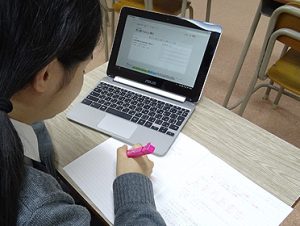 From 2017, all new students are required to have a Chromebook. This is a notebook PC which is utilized for each student's studies and school life. Due to each student having one, management of in-class homework distribution and submission is greatly streamlined. This is a new tool which has freed students from having to carry a USB memory stick for their presentation and projects.